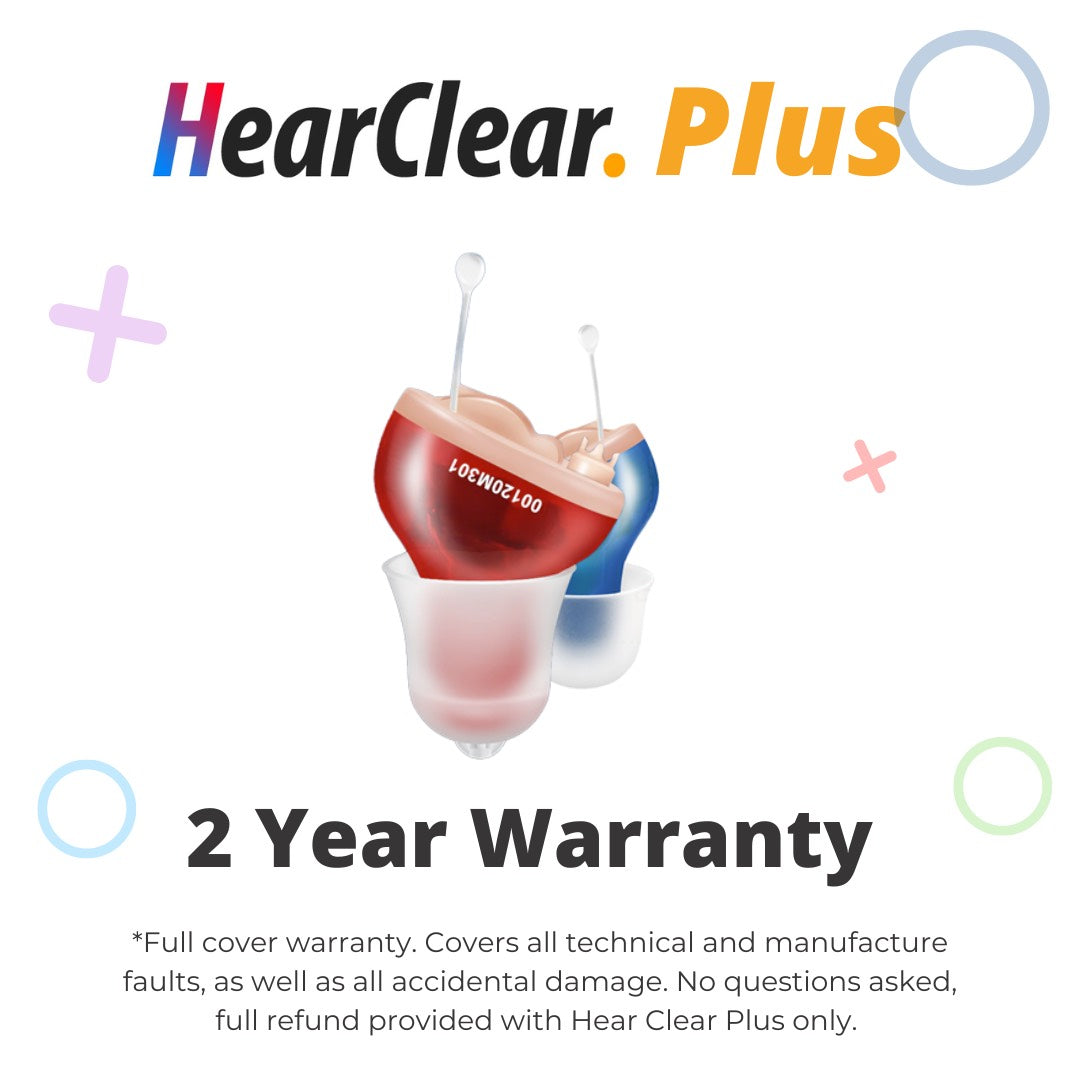 Hear Clear Plus - 2 Year Full Warranty
Translation missing: en.products.product.price.regular_price
$39.00
Translation missing: en.products.product.price.sale_price
$39.00
Translation missing: en.products.product.price.regular_price
$0.00
Tax included.

Enjoy complete peace of mind with our full cover warranty.
Hear Clear Plus covers your Hearing Aid for up to 2 years from all types of damage and issues, including technical, manufacture faults, as well as accidental damage.
--
In the rare occasion if your device has any faults or issues within 2 years of your purchase, by purchasing the Hear Clear Plus warranty you will be covered and receive a full refund for your order immediately.
Hear Clear Plus must be purchased directly via our site and is linked to the order number for the device purchased at the time your order is placed. Hear Clear Plus is only applicable to a single device. For orders of multiple devices, multiple Hear Clear Plus warranties must also be purchased, equal to the number of devices ordered. To claim your Hear Clear Plus warranty at any time within the first two years from purchase date you must simply contact our team stating either your order number, or name and delivery address in order to receive a full refund to the value of your original purchase minus the cost of warranty.
We aim to provide the best level of customer service at all stages and hope that this offering further extends confidence in Hear Clear. Shop in confidence and hear clearly, with Hear Clear.
Hear Clear Plus - 2 Year Full Warranty
Translation missing: en.products.product.price.regular_price
$39.00
Translation missing: en.products.product.price.sale_price
$39.00
Translation missing: en.products.product.price.regular_price
$0.00