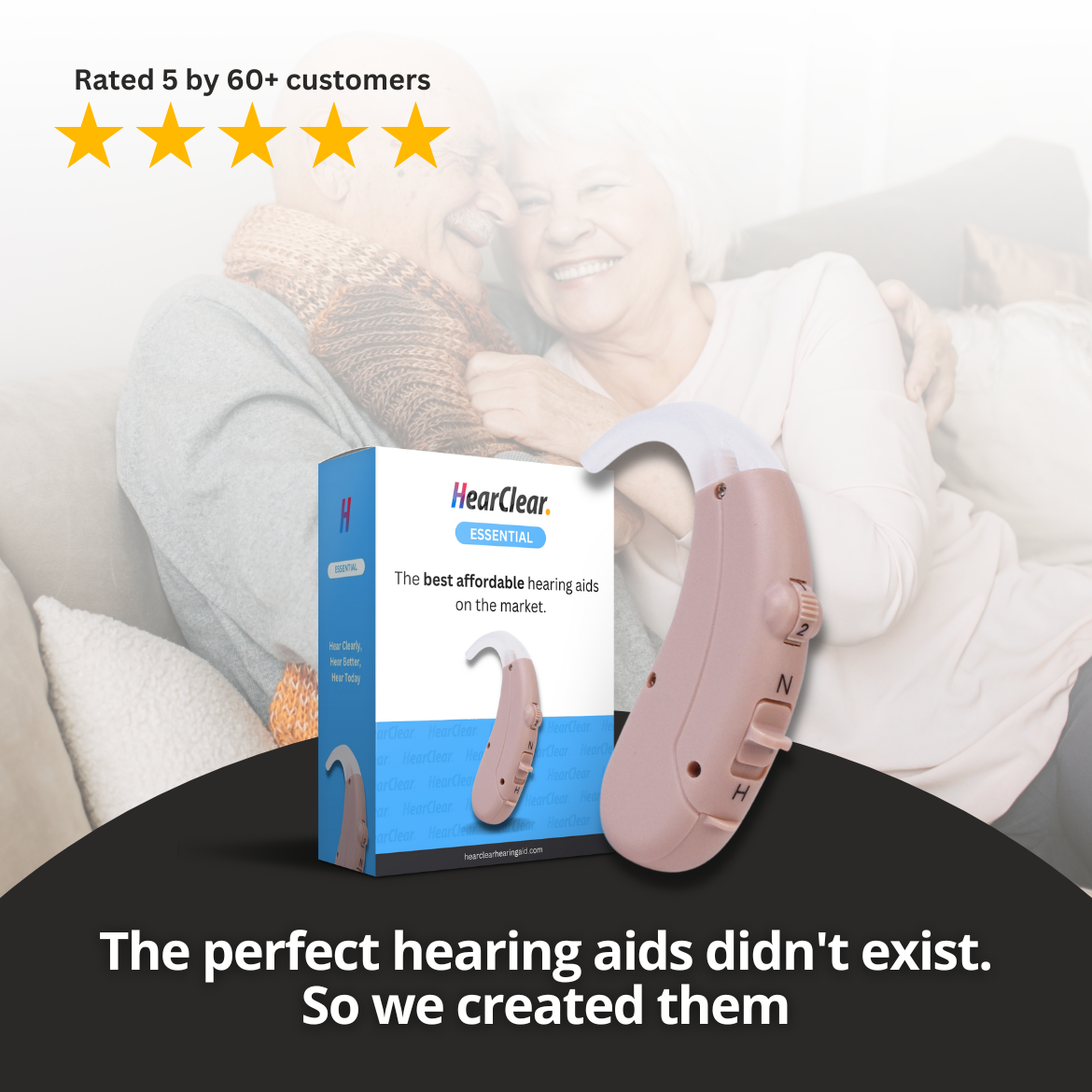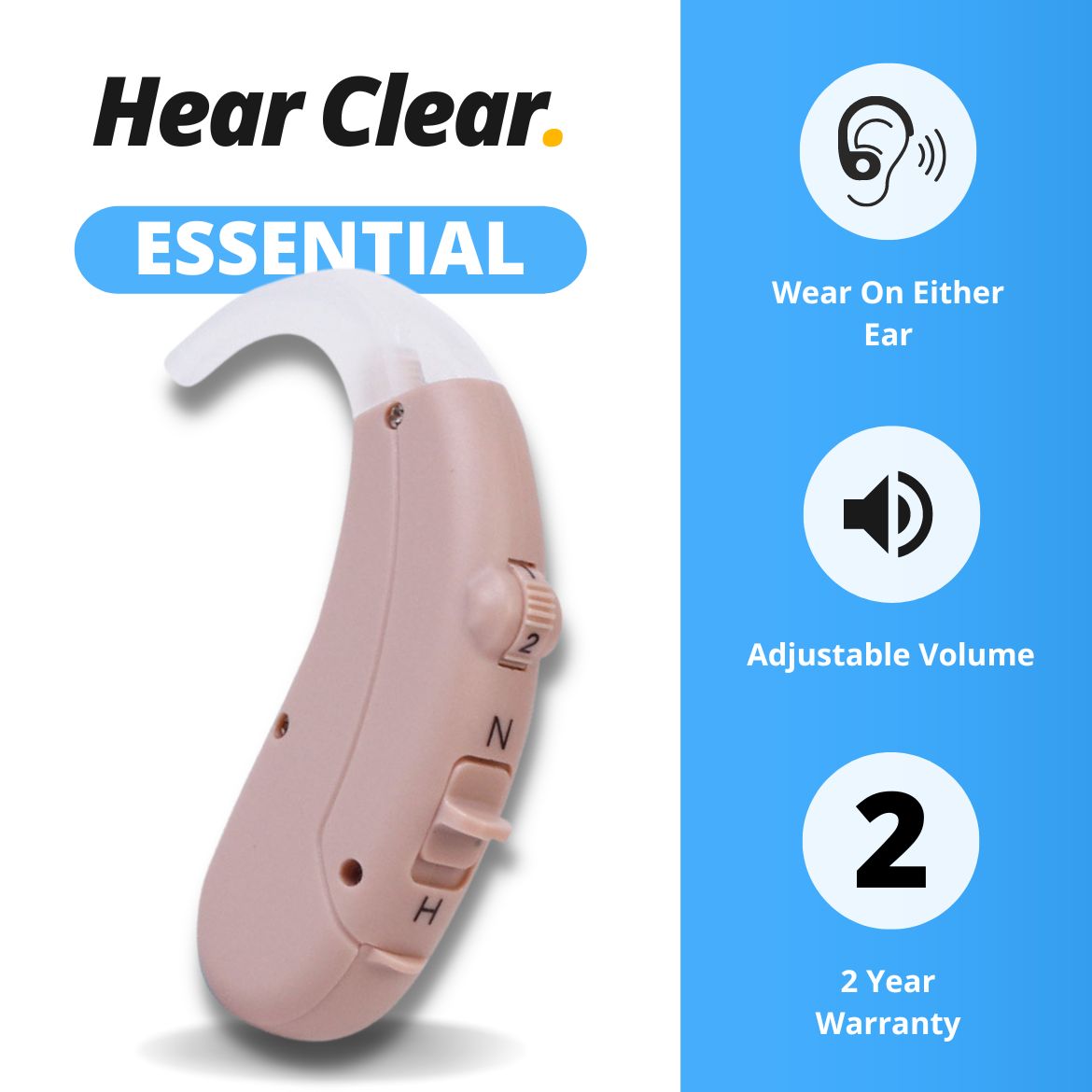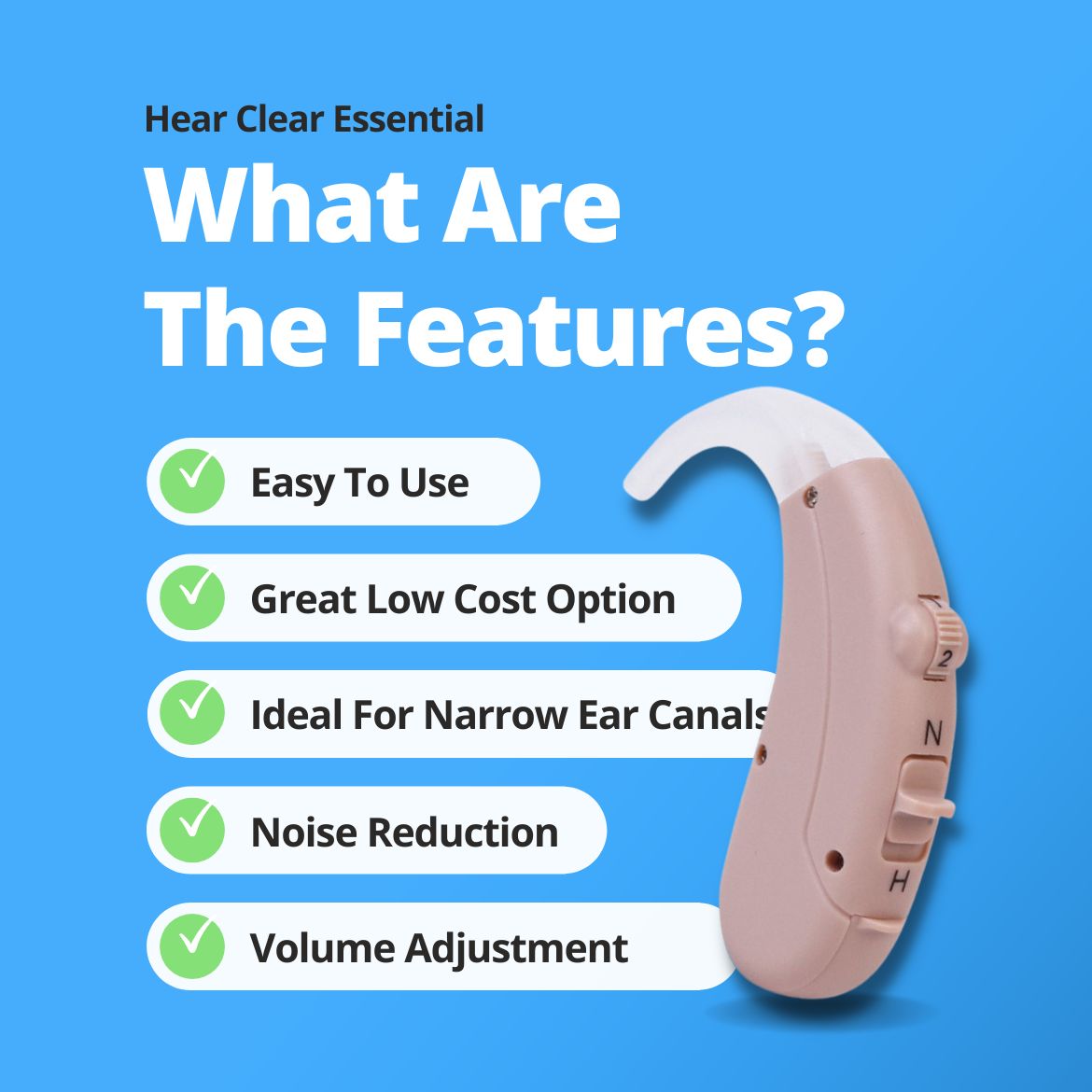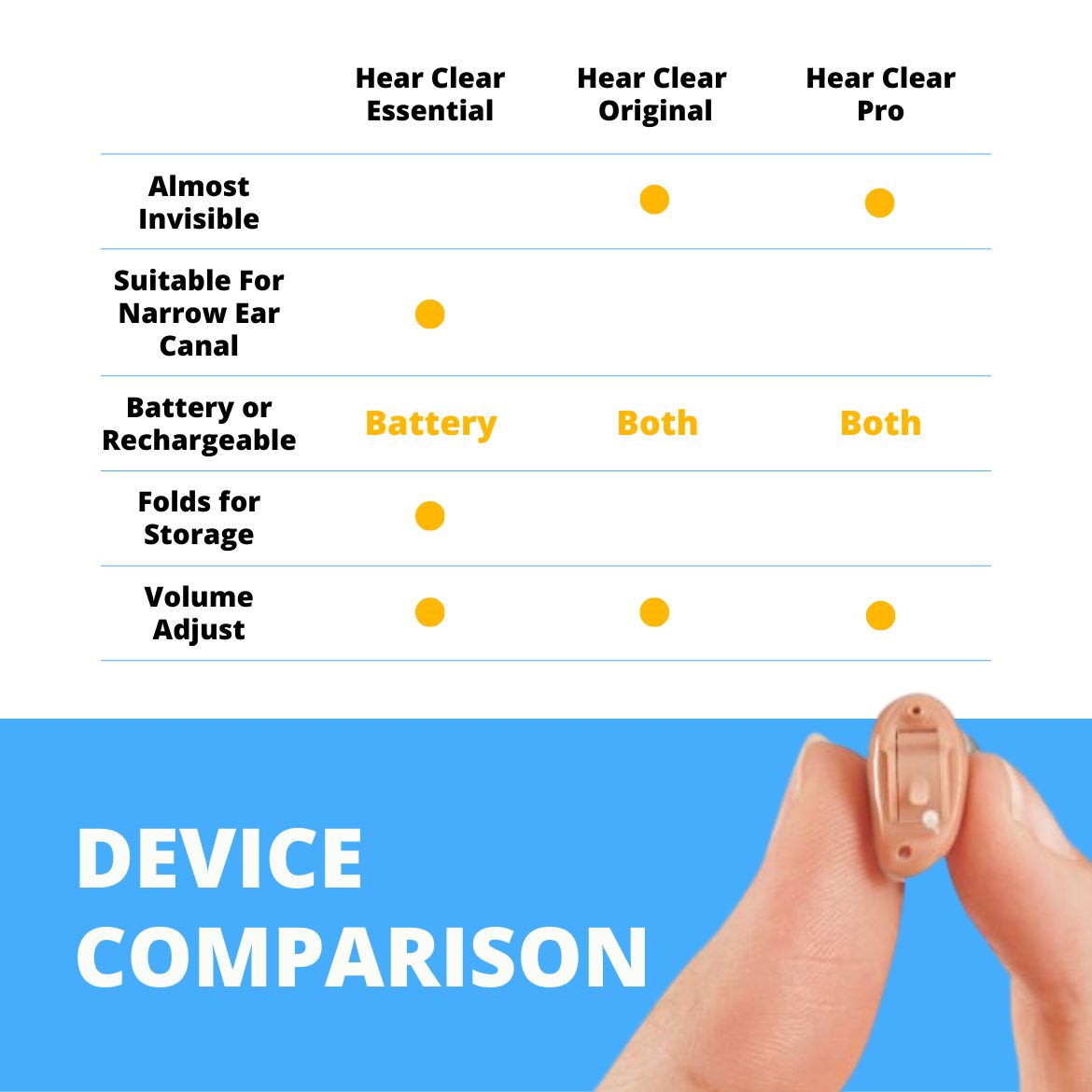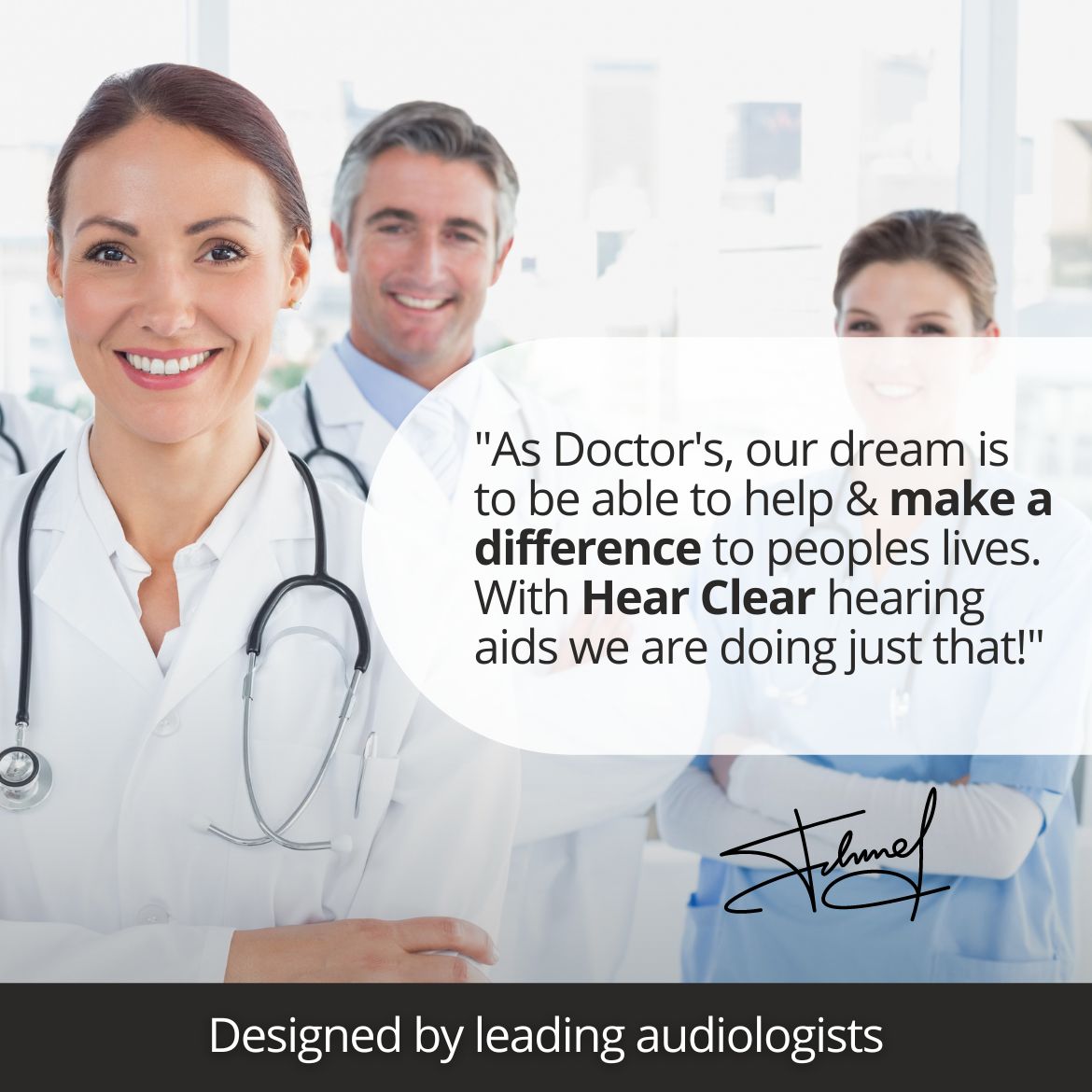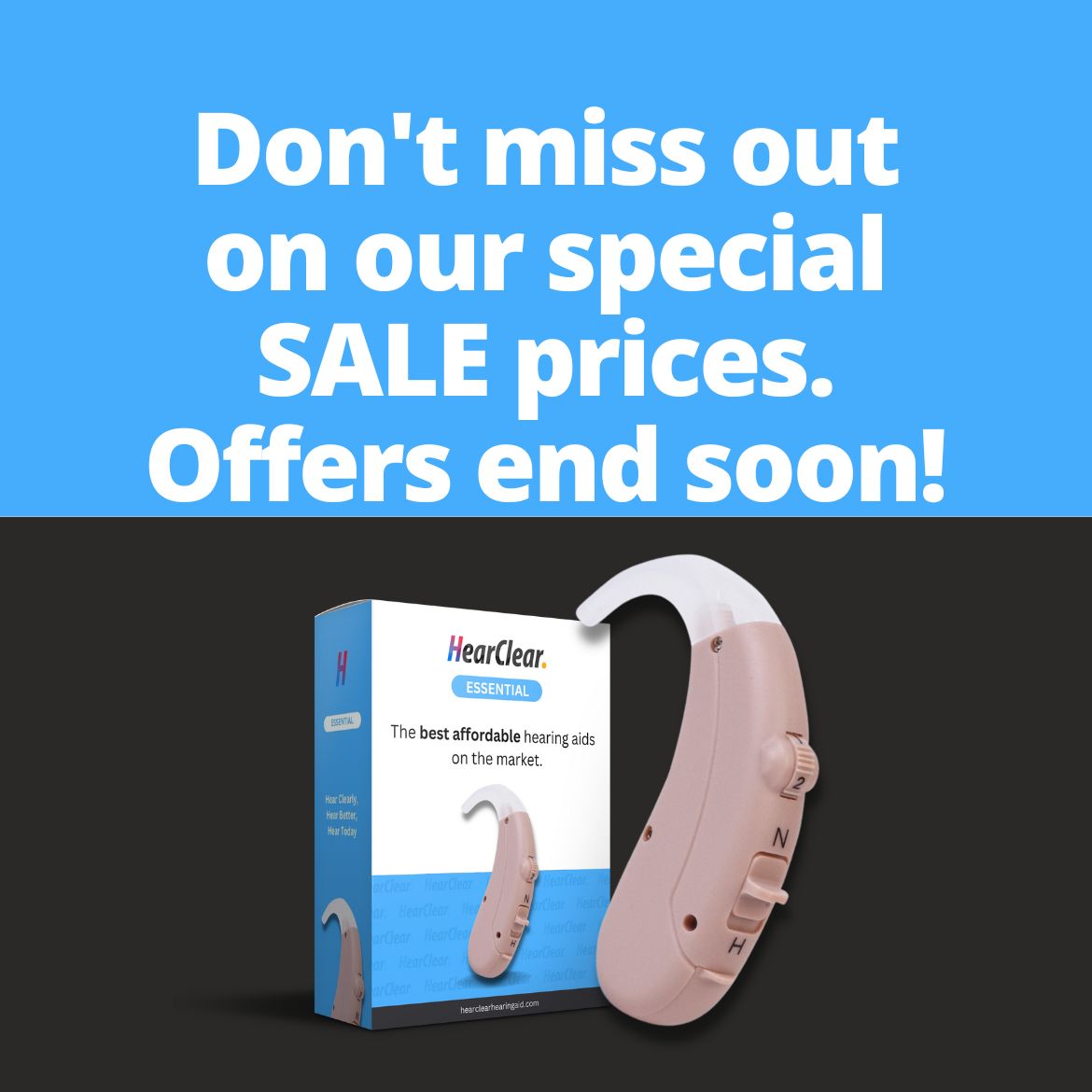 Hear Clear Essential (BTE) Hearing Aid
Translation missing: en.products.product.price.regular_price
$59.00
Translation missing: en.products.product.price.sale_price
$59.00
Translation missing: en.products.product.price.regular_price
Tax included.

The perfect hearing aids didn't exist, so we invented them.
The Hear Clear Essential hearing aids are the best affordable hearing aids on the market. These powerful devices are designed to be:
- Discreet
- Unobtrusive
- Incredibly comfortable.
Watch the video below or keep on reading to find out more about the Hear Clear Essential hearing aids and how they can help restore your ability to hear like never before.


- Anne


- Roz


- Phillip
Designed by experts

Hear Clear devices sit comfortably inside your ear and are practically invisible. Created by our expert audiologists and doctors, our devices have been designed with you in mind, and as a market leader of affordable, invisible hearing aids we aim for nothing short of 100% customer satisfaction.
Description
The Hear Clear Essential hearing aids are our most affordable hearing aids to date. Their unique design guarantees the user absolute comfort, whether they're worn for a few hours or throughout the whole day. Their ease of use, low cost, and abundance of features make them a great solution for anyone who's experiencing hearing loss and wants to do something about it on a budget.
Key Features
Guaranteed Fit: The Hear Clear Essential is a medical-grade BTC hearing aid designed to fit ears of all shapes and sizes
Small Yet Powerful: The Hear Clear Essential hearing aids are small but extremely powerful. As a result, they're suitable for anyone with a minor or a more severe case of hearing loss
Unrivalled Comfort: Hear Clear ear domes are made from super soft silicone, expertly designed to be small and flexible. This means that the Hear Clear Essential hearing aids can be worn all day without causing any irritation or aching to your ears or skin
Enjoy Music & TV: Enjoy the sounds of your favourite shows and songs in unbeatable clarity. The Hear Clear Essential hearing aids are designed to hone in on key sounds to ensure that whether you are watching TV or listening to music, your experience is amplified
FAQs

How Does the Essential Hearing Aid Work?
The Hear Clear Essential hearing aids are comprised of several different components, all of which work together towards one goal - to make your hearing better. The two main components that make this possible are a microphone and a speaker.

While the responsibility of the microphone is to pick up all sounds around you, the speaker's job is to sound the picked-up sounds louder into your ear canal. As a result, you'll be able to hear sound more clearly, like you normally would.
Can I Shower With the Essential Hearing Aid?
No. The Hear Clear Essential hearing aid is not waterproof and should not be used near water. Any contact with water may damage its ability to help you hear normally.
Can I Take Calls With the Essential Hearing Aid?
Absolutely. The Hear Clear Essential hearing aid is designed to help you live your day-to-day life as you normally would, with little to no limitations.
Does the Hearing Aid Come With a Warranty?
Warranty on the Hear Clear Essential hearing aid is optional. If you don't want a warranty, you don't have to have one. However, we strongly recommend you have one, just in case.
What's the Refund Policy Like?
If you have any concerns regarding your Hear Clear Essential hearing aid, please reach out to contact@blueandred.co.uk as soon as possible. Within your enquiry, please include any evidence of the damage and the name used when placing the order.

Replacements and refunds will only be issued if the item has been unused and is in the same condition as it was when received. If you are approved for a replacement, your new hearing aid will arrive in about two weeks.

If you've requested a refund, you will receive the full amount to your original payment method within 3-5 days. Please note that we reserve the right to decline any refund or replacement requests that we deem unreasonable.